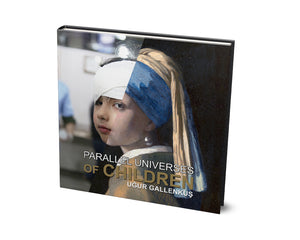 Ugur Gallenkus
Hardcover Book
Sale price Price $75.00 Regular price Unit price / per
BOOK DESCRIPTION
In honor of World Children's Day, artist Ugur Gallenkus is debuting his first book, Parallel Universes of Children. The book features selections from Gallenkus' ongoing series of collages juxtaposing the starkly different worlds today's children inhabit globally. 
Parallel Universes of Children, an 11x11-inch, 108-page hardcover volume, contains 50 collages representing children's rights and pairs each artwork with quotes and facts about children's lived realities. Each page has the quality of a fine art print.
ORDER NOW
Children Are Dying
Children are hungry. Children are soldiers, labor workers, sex slaves and brides.
Every page of this book bears witness to the lives and plights of children around the world—acknowledging their fears, tears and pain.
We say, "All children are special. All children have the right to live." But what are we doing to ensure that all children have these promised rights?
This book is a call to action.
ABOUT THE BOOK
"Ugur's art makes us understand and feel the things we need to reverse in our communities such as inequalities, pollution, poverty, and injustice; whilst helping us visualize what our world could look like if we turn things around".
"Ugur's work is captivating and truly one of a kind. It is shocking by nature, and forces its viewers to reflect on the horrific dichotomies that exist in the world"
Nowadays, where communication is mainly instantaneous, Ugur's works give us few brutal but deep messages: we are lucky to live in the "right side of the world", but this doesn't allow us to ignore what's going on on the other side.
ARTIST BIO
Uğur Gallenkuş is an Istanbul-based digital artist of world renown. His collages conscientiously address the widening global divide between the privileged and oppressed, weaving together misery and mirth, wealth and poverty and love and despair. By taking an unflinching look at the realities that surround us through his art, Gallenkuş aims to make a difference in how we understand the lives of others.
About UĞUR